MudHen 2
The Mud Hen series of portable concrete slurry water systems has been designed for processing any concrete slurry. In one step, the Mud Hen filters, provides clean water to drain or for re-use, and compacts concrete sludge construction waste.
• provides a simple-to-use-method for dealing with the slurry produced from wet processing of concrete
• eliminates the hassles and costs associated with storing, hauling, and treating concrete slurry
• allows for inexpensive compliance with local, state, and federal clean water laws and ordinances
• for eco-minded clients, it affords a marketing advantage over your competition
The Mud Hen processes from 1 to 20 gallons per minute of concrete slurry water; it then stores up to 3.5 cubic feet of concrete sludge cake before the 10 minute cleaning cycle is required.
The Mud Hen can outpace most teams of concrete professionals who saw and grind with conventional industrial equipment.
Technical Data
| | |
| --- | --- |
| Dimensions (L X W X H) | 1625 X 700 X 1200 |
| Weight | 280 kg |
| Peak processing speed | 2880 l/hr |
| Air requirement to meet peak processing speed | 15 scfm |
| Filtration capacity per 10 minute cycle. | 0.1 c/m |
| Air blow down feature | yes |
| Suction line dimension | 25.4 mm |
| Hydraulic jack | 20 tonnes |
| Ingersoll Rand pneumatic pump | 25.4 mm |
| Screens | 13 |
Features
Click to enlarge images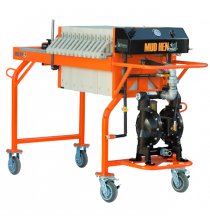 Mud Hen 2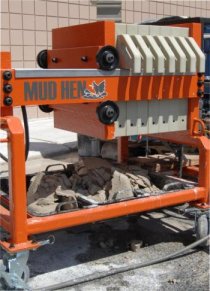 FAST AND PRODUCTIVE
The concrete water system can outpace most teams of concrete professionals that saw and grind with industrial equipment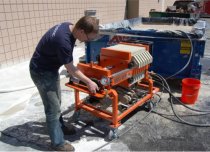 EASY TO USE
The MudHen concrete water system is portable and supports large casters to easily move the unit around a jobsite.